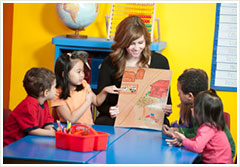 Little Amigos
Why offer Little Amigos in your center?
With almost 15 years of experience working with thousands of childcare centers, preschools, and schools around the country, we understand what directors want and need in enrichment programs. We work hard to make our programs fit your center's schedule, philosophy and needs. Make your center stand out by offering high quality enrichment programs.
Our teachers make learning Spanish fun for young children. Kids love our class mascot, Pepe the monkey puppet. They also love the songs, games and art projects that are an integral part to each class. Parents love our detailed class summaries that include vocabulary and pronunciation guide that allow them to learn along with their child. Learn more in the article , Can Preschool Children Be Taught a Second Language?
Some of the things that directors love about Little Amigos:
No cost to you
Convenient service for busy families
We take care of everything – secure online registration and payment system for parent's convenience
Our qualified, experienced teachers are fluent in Spanish
The early years, from birth to age 7, are the best time to introduce languages to children as their brains are "wired" for language acquisition.